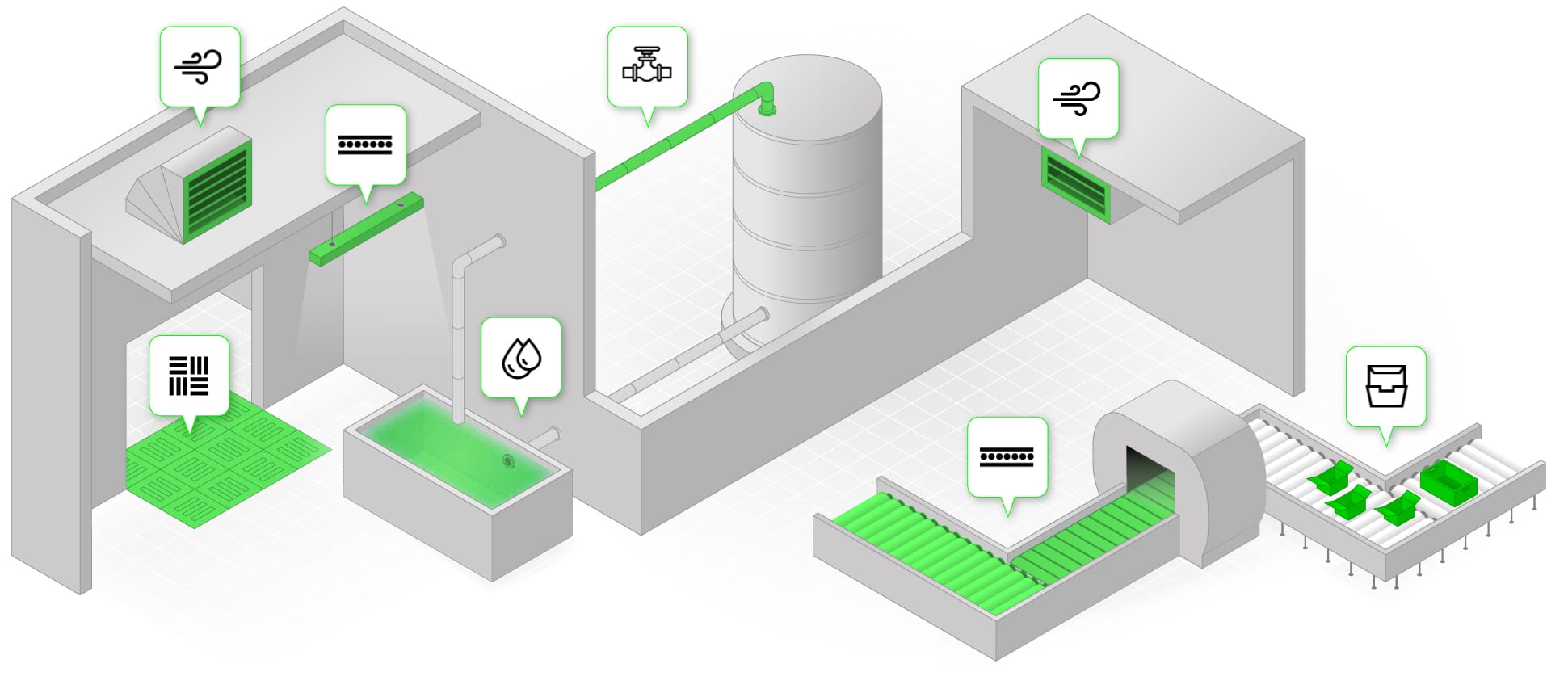 Are you looking to integrate the most economical, reliable and environmental-friendly hygiene solution into your production system? Then we are the right partners to find the optimal solution for you.
FHS Scandinavia offers disinfection solutions while your production is running. We primarily supply to the food and pharma industries in Scandinavia, and we have 20 years of experience in finding solutions using UVC light, ozone and ionisation. Solutions that offer your company an improved microbiological level with economic and environmental-friendly benefits.
Increasing requirements from the outside world
Optimisation of hygiene solutions is an essential focus in order to meet the ever-increasing requirements that the food industry is facing. At the same time, politicians, retailers and consumers demand increased focus on environmental issues and sustainability in production. Therefore, we use entirely chemical-free disinfectant solutions – in other words, we use nature's own solutions with UV-C light, ozone, ionisation and antibacterial flooring.
FHS Scandinavia is by no means a competitor or a substitute for the cleaning, washing and disinfection that you are performing today, but an ADD-ON product to improve the microbiological results.
What do you achieve by choosing FHS Scandinavia to solve your microbiological challenges?
improved efficiency in your production (fewer stops)

fewer recalls of products with microbiological problems

longer product shelf-life

a green profile by reducing water consumption and opting out of chemicals
During the last 20 years, our work with UVC light, ozone and ionisation has taught us which solutions work, and not least, which do not work for chemical-free disinfection in the food industry. And we have selected and tested the best suppliers within the field of "chemical-free decontamination 24-7 while your production is running" so that we can advise you on the best hygiene solutions.
A GOOD INVESTMENT IN THE FUTURE
FHS Scandinavia provides solutions within decontamination while production is running. We primarily supply to the food and pharma industries and have 20 years of experience in finding solutions to help companies improve their microbiological level. This is a field with increased focus from retailer, suppliers and society in general. Therefore, investing in your company's hygiene solutions is a guaranteed winner and insurance for the future as it boosts the company with a longer product shelf-life and less product recalls.  These results match the general trend of reduced food waste and sustainable production – without using chemicals.
When we visit your company and examine your business, as well as talk to you about your microbiological challenge, we are quickly able to devise a solution. In most cases, the solution will not require a complete rebuild at your site, but merely a supplement consisting of UVC light, ozone, ionisation and/or antibacterial mats in your current setup. And since our selected subcontractors are specialistswithin their respective fields, we can assemble the most optimal products for you.
We are somewhat confident that we can find the right solution for your business, but should the solution not meet your expectations, our philosophy is "No cure No Pay".
Do you need help with your challenge? Fill out the form and we will contact you as soon as possible..
You can also sign up for the newsletter here.
FHS SCANDINAVIA – Denmark